While kayaking with a friend yesterday, he mentioned something that piqued my interest. He essentially said that, in terms of dopamine levels, sex and nicotine are on par…and that both pale in comparison to cocaine, which in term can't compare to methamphetamines.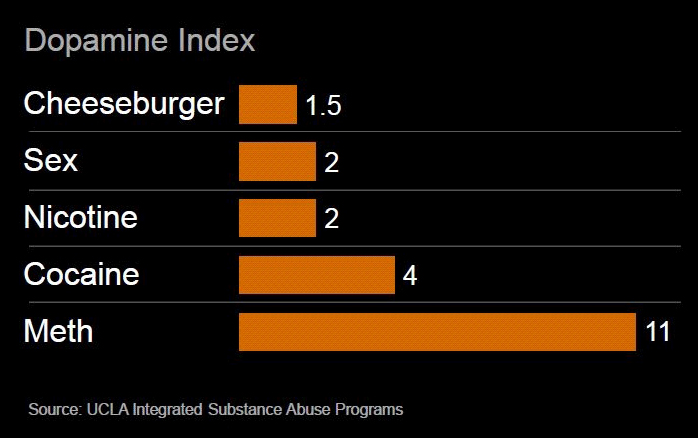 The image above is attributed to the
UCLA Integrated Substance Abuse Programs
, although I was unable to find the exact publication. I
was
however, able to find an
excellent slideshow
on PBS (narrated by
Dr. Richard Rawson
) which discusses the image above.
The baseline is 1. It's interesting that the cheeseburger is halfway to sex and nicotine is on-par with sex. In the image above you can imagine that a methamphetamine user, whose baseline has been adjusted upwards from 1 to 11, probably doesn't have good days unless they are using. On the other hand, if the most indulgent you get is an occasional cheeseburger…I'll hazard a guess that you have a lot of good days, because your expectation for dopamine release is so much lower than even a nicotine user's expectation.
It seems logical to me, then, that the key to living an extraordinarily happy life might be to limit your own exposure to things that spike dopamine levels. For example, if your typical meal consists of unadorned lettuce…an apple or an orange is perfectly heavenly in comparison. By indulging infrequently in activities which increase dopamine levels significantly, the increase from small pleasures should appear comparatively large.